International movings in maximum quality.
Our international relocation service solves all the logistical problems of moving abroad. Whether you want to take a few things with you when you start a new life in another country, or you need a complete international relocation with boxing and furniture delivery. You can always count on our many years of experience, professional colleagues and reliable machinery fleet.
When moving abroad, it is even more important to have high-quality infrastructure, as it is more difficult to ask for help and it takes a long time for a new truck to arrive. Continuous maintenance of Promove's cars ensures that our vehicles will not let you down the long road and your values arrive safely. And the GPS installed in cars allows you to keep track of the movement of the truck and its values on the fly.
We employ our drivers following a multi-step selection process and thorough due diligence, which guarantees that we only work with trusted colleagues. Our employees have seen almost everything, their expertise and competence are guaranteed by their many years of experience, so they can successfully deal with any problems encountered on the go.
Have we piqued your interest?
Ask for a quote from us!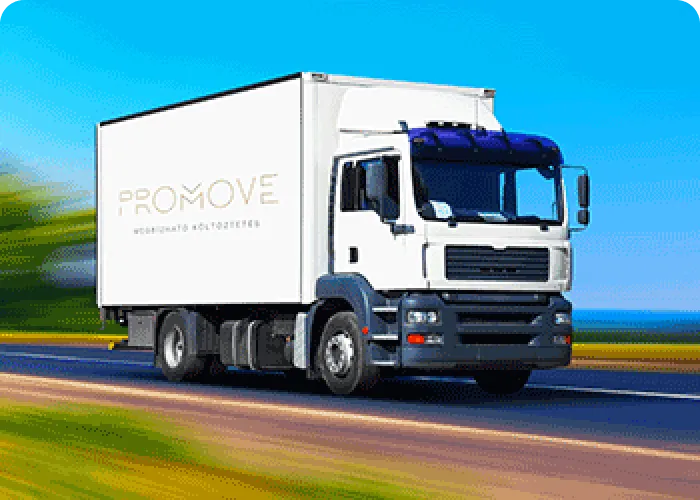 Who can use the international relocation service?
Promove is a domestic and international moving company, so we can carry out moving abroad from any customer, whether residential or corporate.
What counts as international relocation?
We talk about international relocation if one of the two addresses (either the departure or the destination) is not a Hungarian address. From this point of view, it doesn't matter whether we move to the border or to a distant country on the continent.
Which countries does Promove deliver to?
Promove undertakes international moving and delivering furniture anywhere within the European Union.
What deadlines does Promove undertake international relocation?
When moving abroad, it is extremely true that it is worth ordering the service as soon as possible. The commitment deadline depends on several factors. Such as the distance to the destination, how frequented time the move would take place, or how far the order can be placed in advance. Promove will do everything possible to fulfill orders that may seem impossible, but if you want to be sure, plan ahead.


You will end the day with a satisfied smile if you choose us! Ask for us a quote from us!
What is the process of international removals?
How are international relocation prices calculated?
International removals prices are basically calculated on an hourly basis, but there are additional items (such as toll, ferry or bridge usage fee, etc.) that we can accurately determine during the winding up settlement. Due to the distance, in any case, two drivers are involved in the moving, because international transport is limited the time that can be spent on the axle. The two drivers will do the unpacking at the destination.
For a detailed quotation, please feel free to contact our customer service!
Frequently Asked Questions
Feel free to contact our customer service with any questions! We look forward to your honorable inquiry.